INTENSIVE SCULPTING COURSE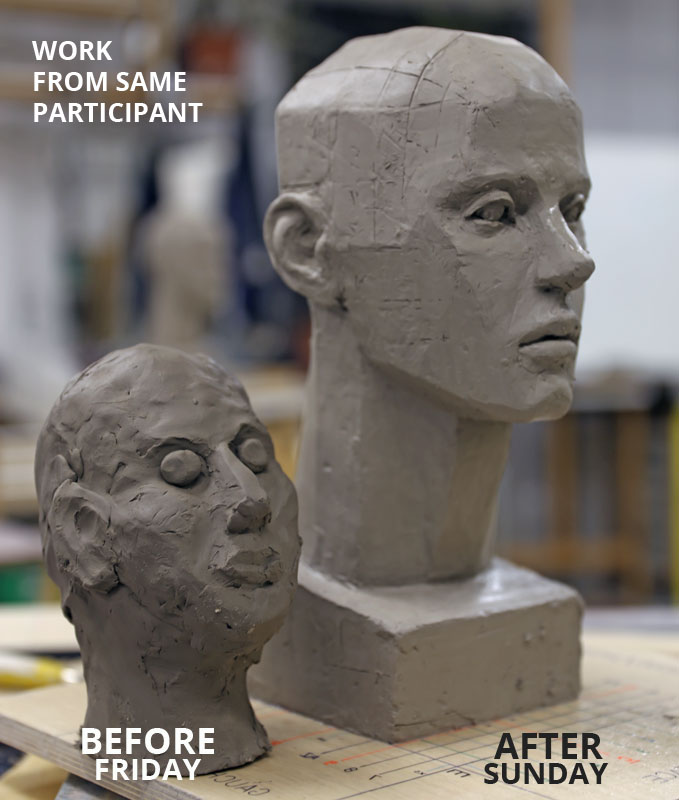 A UNIQUE STEP-BY-STEP APPROACH
Have you dreamt of learning to sculpt but were afraid to do it – are you an amateur sculptor wanting to acquire a solid foundation – are you an experienced sculptor wanting to broaden your carving practice in wood sculpture, stone sculpture, or modeling in clay sculpture – are you a visual artist interested in exploring sculpture, then this unique course is for you.
This two and a half day intensive workshop is offered in Montreal in the sculpture studio of Coudari, a contemporary sculptor. The environment is bright and has a warm and friendly atmosphere. You will have a rewarding and challenging experience that will show in your creative process and contribute to your artistic development at various levels. You will gain in confidence and your work will have strength and presence.
TO ENJOY - TO LEARN - TO IMPROVE
MORE THAN A COURSE OF SCULPTURE, IT IS A SHARING OF PASSION
A three day intensive class
Friday                     6 pm to 9 pm
Saturday     9:30 am to 5:30 pm
Sunday        9:30 am to 5:30 pm
Up to 3 participants
Open to all
No experience required
Tools provided
SEE CALENDAR
In Montreal
Close to the highways 15 and 20 and Champlain bridge
Near subways Verdun and de l'Église
Free and easy parking
ENROLL
Phillippe is a talented man, passionate and full of good will. One is lucky to know him. He is committed to every student and goes well beyond the expectations of a teacher.
The success of each participant is not an objective for him, but a mission that he intends to fulfill. Not only will you gain knowledge of the world around you by understanding sculptural forms, but you will learn first and foremost to know yourself. For me, it was a turning point of great value.

D. GALIPEAU

B. Sc. Medical Biologist

I enjoyed and learned in this course. I had the satisfaction of succeeding in sculpting a head for the first time, and the new experience of thinking three dimensionally, the feeling of having developed my sense of observation, and using a working method that will go beyond the scope of the course … I also appreciated the teaching skills of Philippe Coudari as well as the generosity and guidance he offers to everyone. The course is given with a smile in an atmosphere both serious and warm. I came out of this class enriched. I recommend it without reservation!

J.P. Marcoux

Doctor of Chiropractic and Speaker

Any beginner and even amateur sculptors should attend this class. The course is very intensive, very demanding and requires a lot of attention, but you learn a lot.
It shows you not only how to properly use the tools but also how to position your body so as not to tire quickly. It teaches you how to look at your work and that of others. The course does not show just technical elements, it also teaches a way of thinking and understanding sculpture.
After the course you will not see a sculpture in the same way.
I highly recommend it.

This class is not only good for beginners but is also beneficial for sculptors who want to review and classify their discrete knowledge on form and light in such short period of time. I also learned how to use few sculpting tools and how to plan the portrait base more efficiently and more confidently. Thank you! thank you!

A. Oveissian

Painter and sculptor

It was an intensive weekend for a first experience in sculpting clay. I am pleasantly surprised by the head I made. I especially thank you Philippe for your patience and sharing your passion. Yes, I would do the whole experience again with pleasure!

C. Brien

Self-employed, origamist

Having made a few non-figurative woodcarvings, this training allowed me to better understand the proportions of a face as well as to improve my sense of observation.
The method is very effective and the result surprising.
I recommend this course to anyone who likes the sculpture even if she has ever made.
It also allows me to better appreciate the works in Gallery and Museum.

R. Charneux

Executive Vice-President

I arrived on tiptoe. I left head high. Coudari: what a sculptor, what a teacher, talented and generous. Thank you Philippe!

S. Beauchemin

Ph.D. in sociology retired

It was a very nice experience both serious and beneficial. The subject of sculpture is approached from end to end, from the cut, the plans, the very useful notions of anatomy and by a great explanation of the use of tools.
The place is very well equipped, surrounded by plenty of plants; it is a source of inspiration and calm for working on your project.
I recommended this course to people of all levels wishing to deepen and structure their creativity!

O. LUDGER-FRANÇOIS

Project Manager in IT

This workshop allowed me to have the experience of sculpting a realistic head in clay. Through the sequential process taught in the course I learned the answers to my questions about volume, balance of form, light and shadow.  I enjoyed it reatly!

F. Mailloux

Artist painter and sculptor

What a great experience!
This studio, luminous and full of works by the artist, was the perfect setting for a beautiful experience. What a surprise to see my block of clay gradually transform into a splendid head! Thank you Philippe for your kindness, your patience, generosity and technical support.
Beyond the techniques, the shared expertise and passion, your teaching sharpened my perception of form, volume, shadow and light. It even enhanced my way of seeing things in three dimensions.

J. Ouimet

Retired, Pediatric Rehabilitation

I loved the course with Philippe. I had no prior experience in drawing or sculpture. I took great pleasure in following Coudari's method and was very happy with the result of my head!

I am very happy with my intensive sculpting workshop. I had no expectations in particular, only to enjoy myself and spend quality time with my two friends with whom I have taken the course. I am doubly satisfied, because in addition to introducing me to sculpting with a talented teacher, patient and interesting, I had fun. An experience to relive, for sure!

J. Savard

Educator in childcare, origamist

It's been several years since I worked in clay by modeling. The course allowed me through Philippe Coudari's teaching, to change my perspective and work by extracting as if we were carving stone or wood. Now I have a better understanding of shape and volume. The course, which is given in a warm and friendly manner, was for me a unique experience in the wonderful world of sculpture. I highly recommend it!

R. Houle

Managing Director, amateur sculptor

This was a rewarding course, which enabled me to understand and see volumes, to forget old habits and to let myself be guided.
These three days have been full of valuable learning. My view of things will never be the same.
Philippe thank you for your patience and your humor! It was very pleasant!
I will always remember: firm yet relax.

I participated in Philippe Coudari's workshop focused on sculpting a head.
His method is very technical and for this reason students learn to build a solid foundation. This approach respects proportions and will carry over into the student's future projects.
The studio is very large, clean and bright, this is important to me. Philippe is also a very sympathetic, patient person who transmits his knowledge well.
So I highly recommend this great class! I am looking forward to doing another workshop in the near future!

A little word to tell you that I loved this sculpture course that I have just done with you. Not only your teaching, but your attention to each participant, is remarkable. I have really enjoyed it.

I. DUSANTER-FOURT

Scientific research

After taking Coudari's sculpture course I not longer see the world in the same way. I had worked with clay in the past but I had never tried to sculpt. What a great discovery! I loved this experience! Coudari shares his passion for sculpture and is expert in guiding each student throughout the workshop. You use ruler and compass, concentrate and listen to anatomical concepts and measurements, execute precise cuts and from a big block of clay, finish with a head…it's fascinating! I wish I had the opportunity to follow such a course at college. No, I do not see things the same way at all since I took the course with Coudari and this will certainly influence my work in painting.

Thank you very much for your generosity in your explanations, the notions of structure
and volumes to demystify sculpture in general and your very structured approach of cutting and carving to understand volumes. It was a great experience for me.

The sculpture course we did last week was five stars. I definitely learned more in three days in your course, Philippe, than in both my sculpting sessions in college!

Architecture and sculpture have in common structure, form, light and much more. Thank you to Philippe Coudari for this course which reminds me of the basis of our respective businesses. There is a moment of enormous joy that emerges when the face appears to us, much the same as when architecture reveals all its beauty, its potential , its best!
SEE THE TESTIMONIALS